Compensation Plan:
•Enrollment Bonus – earn weekly:
Once-off R40.00 enrollment bonus per direct enrollment
Plus an additional once off payment on the Level they fall in your matrix (L1 =R10; L2 =R5; L3 =R10; L4 =R25)
Unilevel (forced matrix) – paid monthly
L1 – 10 people @ 0.2% of monthly purchases
L2 – 100 people @ 0.1% of monthly purchases
L3 – 1000 people @ 0.2% of monthly purchases
L4 – 10,000 people @ 0.5% monthly purchases
For example:
Full matrix (All 4 Levels), if spend is R1000/person/month = R52'520,00/month income!
• Enrollment Bonus – earn weekly:
Once-off R40 enrollment bonus for every one of your direct enrollments no matter which level they end up on.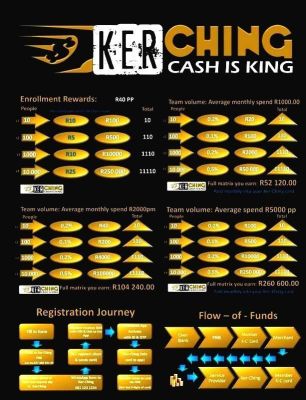 If you are in any African country that has the retailers on the list and Postnet delivery you are eligible to join. Please note that as this is in pre-launch not all the retailers are active yet!
In terms of the network, it's not compulsory to refer others to enjoy some of the benefits of using this card, however don't underestimate the value of earning from the network spending!
You will, by default, be placed in a force filled matrix and thus will earn money as the amount of users grow under the person whose application/referral form you used.
****IMPORTANT!! TAKE NOTE****
IF YOU WERE REFERRED TO THIS WEBSITE BY SOMEONE ELSE OTHER THAN MYSELF, KINDLY GET BACK TO THEM IF YOU WANT TO BE A PART OF KER-CHING. THEY WILL SEND YOU THE INFO TO GET STARTED.
REQUEST TO JOIN OUR KER-CHING TEAM
HERE
SEE WHY AND HOW TO REGISTER FOR YOUR ELECTRONEUM ACCOUNT
HERE