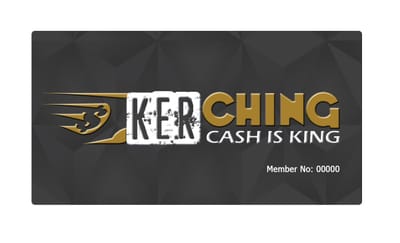 Using your Ker-Ching Card
WITHDRAWALS FROM YOUR KER-CHING CARD CAN BE DONE AT THE MERCHANT'S TILLS AND ALSO VIA ANY NEDBANK.
FUNDING YOUR KER-CHING CARD CAN ALSO BE DONE VIA FNB. TO KER-CHING'S ESCROW ACCOUNT.

Funding the card is easy:
*From your Own Bank account.
Just pay into Ker-Ching's Escrow account and minutes later the money will be on your Ker-Ching card.
Your Employer can even pay your salary via the Escrow account and it will be added to your Ker-Ching card.
*VIA FNB
Soon there will be an option to send and receive to and from other members with Ker-Ching cards.

Using the card is easy:
• Swipe Ker-Ching card to pay at any listed Merchant
• Funds are deducted from the Member 's Ker-Ching Card
• Cash can be withdrawn at the tills at any of the listed Merchants OR through Nedbank

The card has benefits of no monthly charges or transaction fees. You may withdraw cash from any of the rmerchants on the list.

The card can be funded by you from your normal bank account and used when travelling to any country that has any of the merchants on the list.

SPAR STORES INCLUDING KWIK SPARS, SUPERSPARS AND TOPS BOTTLE STORES ETC ARE SAID TO BE THE FIRST OF THE BIG BRAND STORES COUNTRY-WIDE TO COME ON BOARD!
AS THE MEMBERSHIP BASE INCREASES MANY MORE BIG BRAND STORES WILL BE COMING ONBOARD SOON.
Proposed Merchants (To be announced and confirmed soon!)
*Massmart (Game, Dion-Wired, Makro, Jumbo, CBW, Builders Warehouse)
*Pepkor (Pep & Ackerman's)
*Edcon Group (Edgars, Jet, Red square, Legit, CNA, Boardman's)
*Pick n Pay Stores Ltd (Pick n Pay – Supermarkets, Liquor, Pharmacy, Clothing, Boxer)

****IMPORTANT!! TAKE NOTE****

IF YOU WERE REFERRED TO THIS WEBSITE BY SOMEONE ELSE OTHER THAN MYSELF, KINDLY GET BACK TO THEM IF YOU WANT TO BE A PART OF KER-CHING. THEY WILL SEND YOU THE INFO TO GET STARTED.